Timemore Chestnut C2 coffee grinders | Version 2021
1.150.000₫ – 1.390.000₫
The Nob Coffee offers free nationwide shipping for orders with from 3.000.000 VND or 1kg of coffee. For orders with a total payment of less than 3,000,000 VND, please refer to the following shipping charges:
Areas
Delivery time
Shipping fee
Hanoi inner-city area
within 1-2H
29.000đ
within 24H
18.000đ
Outlying areas of Hanoi
within 24H
18.000đ
Northern Vietnam
1-2 days
25.000đ
Central and Southern Vietnam
2-3 days
35.000đ
3-5 days
27.000đ
For better support with express dilivery orders, please contact us directly
Cash on Delivery - COD
Cash on delivery payment is availabe for order's value up to 10.000.000 vnd. Customers are allowed to check items before making a payment and not be charged for COD fee
Bank Transfer Payment
Momo Wallet Payment
Full grind range with stepped adjustments
Unibody aluminum alloy body construction
38mm stainless steel conical burr
Dual bearings for grind axle stability
Diamond pattern for grip
35-gram capacity
Specifications
| | |
| --- | --- |
| Net weight | 480 gram |
| Capacity | 30 – 35 gram |
| Suitable for | Moka, Vietnamese phin & Pour-over |
| Burr | SUS420 |
| Material | Aluminum alloy, Plastic, Stainless Steel |
| Brands | |
Description
The Chestnut C2 is Timemore's entry-level hand grinder, but the small price tag gets you a grinder with a number of excellent features
Timemore C2 has the same 38mm stainless steel conical burrs, the same dual-bearing stabilization, and the same precision stepped grind adjustment that you would find in Timemore's other high-quality hand grinders. the C2's crank arm is also made from stainless steel, whilst the inner chamber, grind adjustment dial, and handle are molded from plastic and the grinder's casing is made of aluminum. Overall the grinder is fairly lightweight, weighing less than half a kilo, and can be conveniently disassembled and broken down into component parts for travel
The outer casing of the grinder has a knurled finish, providing a textured grip, which makes the grinding experience a little bit smoother. The design of the handle and bearings inside the driveshaft all contribute to a very smooth grinding action, and we're really impressed with the speed of the grinder – when grinding for a single cup V60, we've consistently been able to grind 15g of coffee in around 25 to 30 seconds. The maximum capacity of the C2 is 30g of coffee.
Timemore C2 version 2021 with an upgrade in the material of the adjustment dial from plastic to metal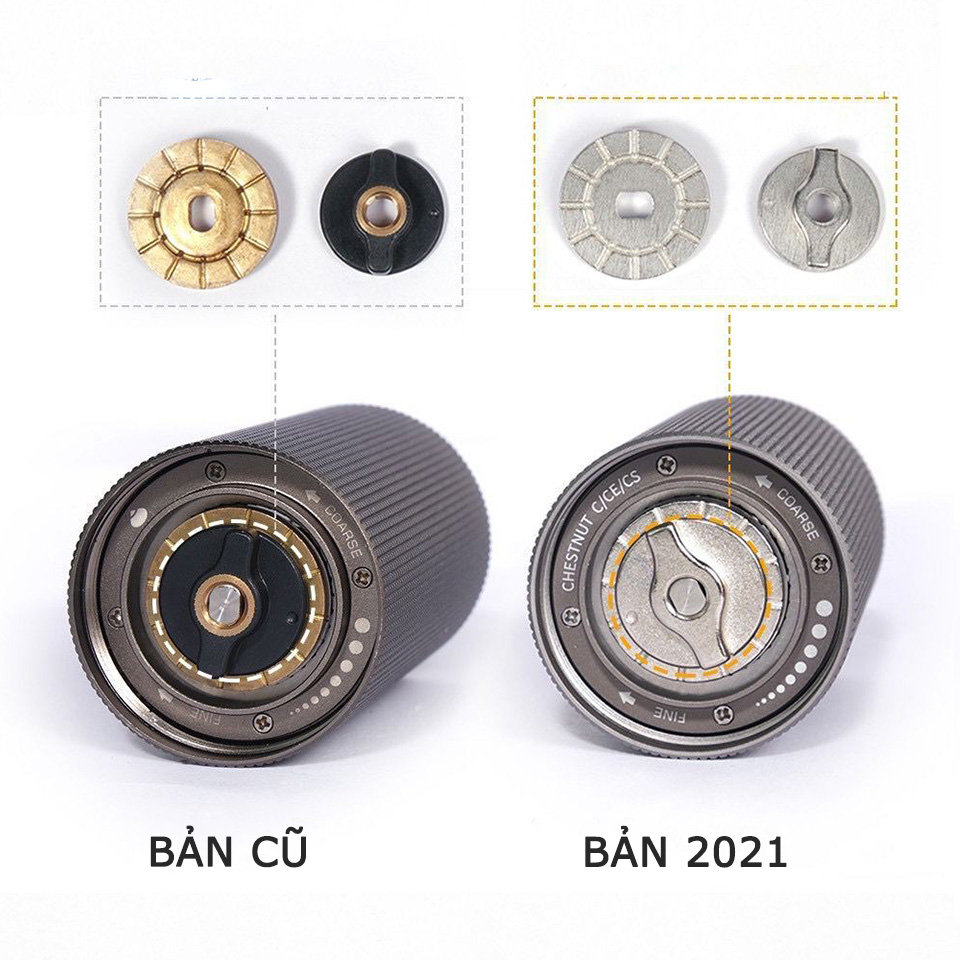 Recommended Grind Settings
The grinder can be adjusted by fully closing the adjustment dial to the 'zero position', by winding it all the way around clockwise until the crank handle ceases to move, before counting the clicks back to your desired grind setting.
Espresso: 11-14 clicks
Pour Over: 18-24 clicks
French Press: 20-30 clicks
Attention
Do not clean the grinder with water. The grinder should only ever be cleaned with a dry brush and blower.
Please read the instruction manual and grind setting reference guide before use.
What's in the Box
Timemore C2 Manual Coffee Grinder
Carrying Case
Cleaning Brush
Owner's Manual
Reviews