Kinu M47 Simplicity Manual Espresso Grinder
8.500.000₫
The Nob Coffee offers free nationwide shipping for orders with from 3.000.000 VND or 1kg of coffee. For orders with a total payment of less than 3,000,000 VND, please refer to the following shipping charges:
Areas
Delivery time
Shipping fee
Hanoi inner-city area
within 1-2H
29.000đ
within 24H
18.000đ
Outlying areas of Hanoi
within 24H
18.000đ
Northern Vietnam
1-2 days
25.000đ
Central and Southern Vietnam
2-3 days
35.000đ
3-5 days
27.000đ
For better support with express dilivery orders, please contact us directly
Cash on Delivery - COD
Cash on delivery payment is availabe for order's value up to 10.000.000 vnd. Customers are allowed to check items before making a payment and not be charged for COD fee
Bank Transfer Payment
Momo Wallet Payment
Kinu M47 Simplicity has the same design as the most advanced version (Kinu M47 Simplicity Classic)  with a few details changed in materials for the purpose of reducing costs:
The shaft consists of 2 steel ball bearings, ensuring smooth and consistent grinding.
47mm stainless steel conical burr, coated with Black Fusion for anti-wear and anti-static.
Equipped with a finger rest button, for an easier the grinding process.
Specifications
| | |
| --- | --- |
| Dimension | 21 x 7 x 19,8 cm |
| Item Weight | 965g |
| Material | Stainless Steel, ABS plastic |
| Burr | Stainless Steel 47mm |
| Coffee storage | 30-35g |
| Brands | |
| Country of Origin | Germany |
Description
Kinu M47 Simplicity inherits almost everything that makes the last famous – Kinu M47 Classic achieved. With a slight difference in the material of measuring hopper on the top and the receiving cup for the purpose of reducing costs.
High quality material and fine workmanship
Kinu M47 Simplicity has an extremely solid build quality with a stainless steel body, the inner frame is also made of the same material, which helps to keep the spindle stable and almost free of dirt. The grinding process of the machine is also supported by 2 steel ball bearings. In addition, Kinu M47 Simplicity uses ABS plastic as the material for the handle and finger-rest similar to the Classic version. ABS plastic is also the material of the measuring hopper above and the cup below, which is a difference with the other version, in addition, the coffee cup is not equipped with a convenient magnet.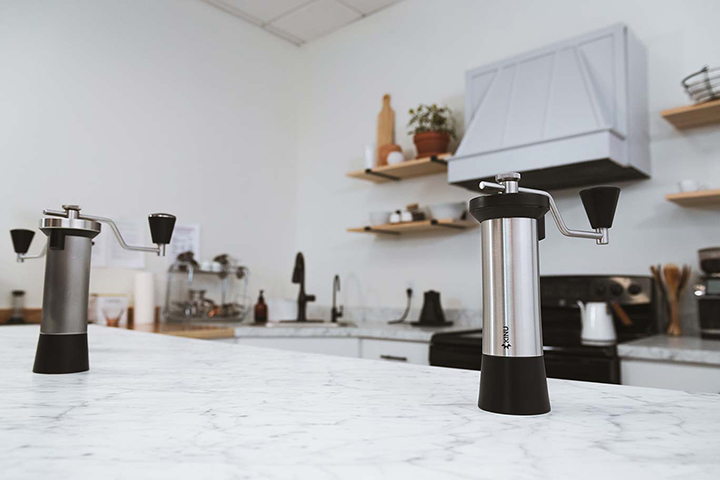 Microstep size adjustment with Kinu M47 Simplicity
Micro-stepping is what makes Kinu the brand. Kinu M47 Simplicity has 50 clicks / rotation, each click moves the blade by 10 Micron. With this super-small size, you can conquer all coffee machines from affordable to high-end.
Black Fusion coated steel blade, increase durability and reduce static electricity
Grinding for Espresso requires a more durable blade than coarse grinding because the blade will have to work more to grind the fine coffee. The inner blade in Kinu models is designed with stainless steel material and is coated on Black Fusion. This layer helps to increase the durability of the blade as well as reduce static electricity.
About 2.000.000 VND is the difference price between Kinu M47 Simplicity and Kinu M47 Classic. If you find the difference between the two versions is not too important, then Simplicity will be a good saving choice.
Reviews