Comandante C40 MK4 Nitro Blade – Black
7.500.000₫
The Nob Coffee offers free nationwide shipping for orders with from 3.000.000 VND or 1kg of coffee. For orders with a total payment of less than 3,000,000 VND, please refer to the following shipping charges:
Areas
Delivery time
Shipping fee
Hanoi inner-city area
within 1-2H
29.000đ
within 24H
18.000đ
Outlying areas of Hanoi
within 24H
18.000đ
Northern Vietnam
1-2 days
25.000đ
Central and Southern Vietnam
2-3 days
35.000đ
3-5 days
27.000đ
For better support with express dilivery orders, please contact us directly
Cash on Delivery - COD
Cash on delivery payment is availabe for order's value up to 10.000.000 vnd. Customers are allowed to check items before making a payment and not be charged for COD fee
Bank Transfer Payment
Momo Wallet Payment
Stainless Steel Body, Axle, and Crank
High-Nitrogen Martenistic Conical Burrs
Capable of Grinding from Turkish & Espresso to Cold Brew
Precise Stepped Adjustment
Made in Germany
Specifications
| | |
| --- | --- |
| Dimension | 6 x 6 x 15 cm |
| Color | Black |
| Weight | 600g |
| Material | Stainless Steel, Polyme, Wood |
| Burr | 39mm conical high nitrogen martensitic steel burrs |
| Made in | Germany |
| Brands | |
Description
If you're a coffee aficionado, you're likely to be aware of the Comandante coffee grinder. The premium grinder is hand-crafted in Germany, but it's not just the build quality that lends it such a solid reputation in coffee circles. The grinder has also been on the market for some time and has become a firm favorite of specialty coffee lovers and professional baristas. The Comandante grinder has an excellent reputation, thanks to its reliability and grind quality. Indeed, many coffee experts consider the grinder the best around for brewing filter coffee. In addition, the grind quality is so consistent that it produces an optimal balance of flavor notes while still offering plenty of sweetness and clarity.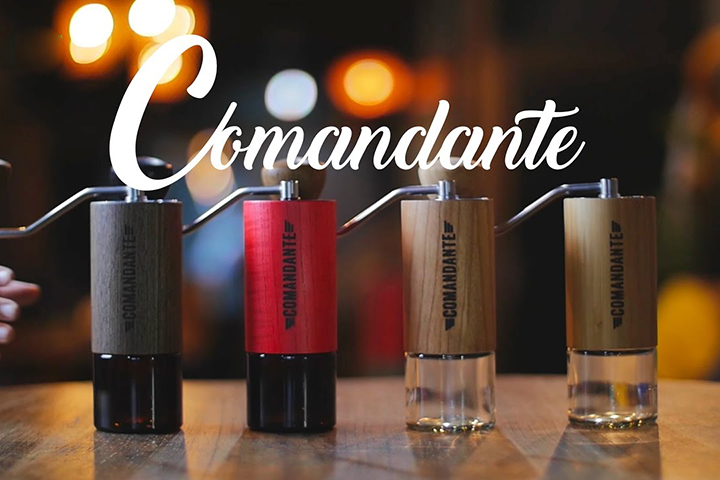 The Comandante C40 has a nicely sized oakwood pommel and veneer wrap boasting the Comandante logo. This gives the grinder beautiful textural details and an iconic appearance that will look impressive.
The nicely designed handle and lid combo with the pommel means the grinder optimizes the energy you expend on it. Not only that but gripping the device is an extremely comfortable experience.
There's a clear lid that prevents any bouncing out. Meanwhile, the lid and handle unit securely attaches to the axle, so while you're grinding, your hand won't easily slip. The Comandante grinder has two screw-on grind catchers offering a 45g capacity. One is a transparent polymer jar, while the other jar is glass in amber. Meanwhile, there is one lid to use between the two jars. The earlier Mk3 model, on the other hand, has two glass ground coffee containers.
Burr Quality
The grinder has a steel drive axle and two steel ball bearings for driving the burrs, ensuring smooth and steady grinding.
The Comandante C40 uses 39mm conical high nitrogen martensitic steel burrs. This is an incredibly strong material that wears away extremely slowly. Meanwhile, the burrs have a high degree of edge retention, ensuring they'll retain their sharpness far longer than standard steel or ceramic burrs. Because of the solidly built internal shaft, sharp blades, and double ball bearings, the grinder spins smoothly, making the process of grinding almost effortless.
The Comandante C40 Mk3 vs Mk4
Grind Setting Reference
Comandante C40 MK4 is a stepped grinder, you need to move it back to the zero point and count the clicks
Turkish coffee: 5 clicks or under
Espresso: 7 to 12 clicks
Moka Pot: 12 to 15 clicks
AeroPress: 16 to 20 clicks
Pour-over: 18 to 28 clicks
French press: 28 to 34 clicks
Cold brew: 30 clicks and over
Attention
Do not clean the grinder with water. The grinder should only ever be cleaned with a dry brush and blower.
Please read the instruction manual and grind setting reference guide before use.
What's in the box
Grinder Body
Handle/Lid Assembly
Clear Polymer Grounds Jar
Amber Glass Grounds Jar
Grounds Jar Lid
Instruction Manual
Reviews