Timemore C2 Max manual coffee grinder
1.490.000₫
The Nob Coffee offers free nationwide shipping for orders with from 3.000.000 VND or 1kg of coffee. For orders with a total payment of less than 3,000,000 VND, please refer to the following shipping charges:
Areas
Delivery time
Shipping fee
Hanoi inner-city area
within 1-2H
29.000đ
within 24H
18.000đ
Outlying areas of Hanoi
within 24H
18.000đ
Northern Vietnam
1-2 days
25.000đ
Central and Southern Vietnam
2-3 days
35.000đ
3-5 days
27.000đ
For better support with express dilivery orders, please contact us directly
Cash on Delivery - COD
Cash on delivery payment is availabe for order's value up to 10.000.000 vnd. Customers are allowed to check items before making a payment and not be charged for COD fee
Bank Transfer Payment
Momo Wallet Payment
Timemore C2 Max is a larger upgrade of Timemore C2.
Large grind amount(40g).
Stainless steel burr.
Supported by ball-bearing for smoother grinding.
Stable grind size with 2 fixed ball-bearing.
Specifications
| | |
| --- | --- |
| Item weight | 480 gram |
| Weight per grinding | 40-45 gram per grinding |
| Grind type | Moka, Phin filter & Pour-over |
| Blade | Chestnut 38mm |
| Blade material | Stainless steel SUS420 |
| Body material | Aluminum alloy |
| Brands | |
Description
Timemore C2 Max manual coffee grinder
Keep Fresh Coffee Flavor Everday – Indulge your coffee desires TIMEMORE professional coffee grinders are made of high quality materials. If you turn the hand crank clockwise, you can feel the beans being broken and ground, release the rounded and intense flavor of the coffee beans. Enjoy the wonderful grinding experience by hand only! Allow you to grind the right amount before brewing, ensuring you get the freshest and most delicious coffee everyday!
Features:
✦Adjustable Coarseness Settings: Clockwise rotate get finer powder; Anti-Clockwise rotate get coarser powder.
✦Convenient To Use with No Noise: With no battery, no electric needed, the hand coffee grinder helps you enjoy quiet mornings without any noise.
✦Easy To Clean & Simple To Carry: Easy to disassemble for cleaning. With compact & portable size, perfect for camping, hiking or travelling.
Manual Timemore Lite C2 Max package:
Grinder body with a coffee storage.
Burr with a plastic handle.
Manual use provided.
A brush for pro coffee grinder.
Travel case included.
Adjust grind size with Timemore C2 Max
The Timemore C2 Max's grind size adjustment by turning the "click" at the bottom of the top of the jar helps users to precisely fine-tune the grind size, avoiding screwing during the grinding process.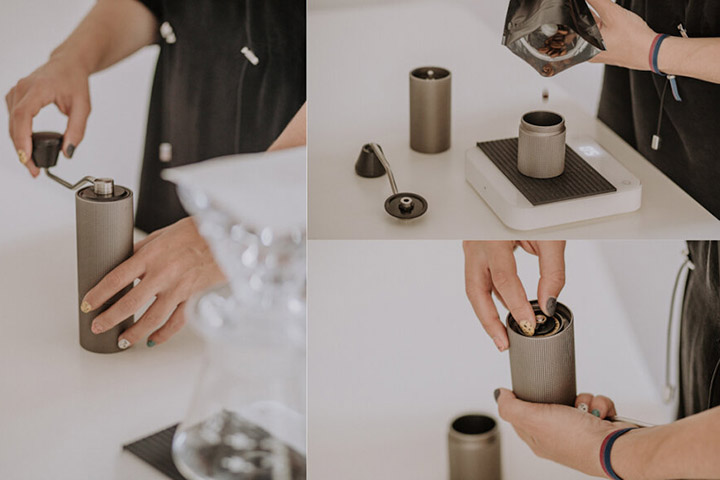 How to adjust
Remove the coffee pocket, turn the Timemore C2 Max blender upside down and turn the knob clockwise all the way to the fine direction until it can no longer be rotated,  now it is counted as 0 ("zero click")
Then slowly release and rotate towards "coarse". Each time you turn a step of the mortar, it will "click" lightly. Count the number of clicks to get your desired grind size.
Recommendation for grind size with Manual Timore C2 Max
Espresso: 11-14 clicks.
Pour Over: 18-24 clicks
French Press: 20-30 clicks
Reviews