-3%
1Zpresso K-Max manual coffee grinder
The Nob Coffee offers free nationwide shipping for orders with from 3.000.000 VND or 1kg of coffee. For orders with a total payment of less than 3,000,000 VND, please refer to the following shipping charges:
Areas
Delivery time
Shipping fee
Hanoi inner-city area
within 1-2H
29.000đ
within 24H
18.000đ
Outlying areas of Hanoi
within 24H
18.000đ
Northern Vietnam
1-2 days
25.000đ
Central and Southern Vietnam
2-3 days
35.000đ
3-5 days
27.000đ
For better support with express dilivery orders, please contact us directly
Cash on Delivery - COD
Cash on delivery payment is availabe for order's value up to 10.000.000 vnd. Customers are allowed to check items before making a payment and not be charged for COD fee
Bank Transfer Payment
Momo Wallet Payment
Customizable grind size with 90 clicks, precise control of fine or coarse grinding.
Grind coffee with excellent consistency and uniformity.
Blend well with all brewing methods, including espresso machines
High quality materials, beautiful finishes and fine workmanship
Warranty: 1 Year under normal usage.
Specifications
| | |
| --- | --- |
| Suitable grinding type | Espresso & Pour Over |
| Materials | Aluminum Alloy, Stainless Steel, Silicone, Polycarbonate, Wood |
| Dimensions | 18.6 cm x 6.2 cm x 13 cm |
| Weight | 800 gram |
| Coffee storage | 35-40g (Magnetic catch jar) |
| Grinding blade | Conical burr – 7 wings |
| Burr | 48mm Stainless Steel |
| External adjustment | Each click shifting the grind by 22 microns (0,022 mm). |
| Brands | |
Description
1Zpresso K-Max is the company's latest line of coffee grinders. K-Max is considered as a combination features of K-Pro Dark and K-Plus. However, unlike the K-Plus, the coffee dispenser does not have a convenient bottom indent function for Espresso, which makes the K-Max more suitable for regular Pour-over or filter Phin coffee, …
1Zpresso K-Max is colored black, as on the J-max and K-Pro Dark editions. This color makes it easy to distinguish between K-Max and K-Plus and gives a strong beauty of its own.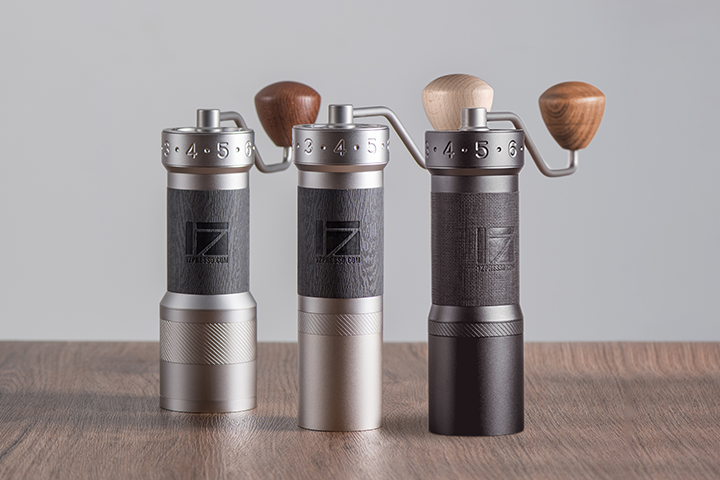 External grind adjustment with multi-touch capabilities
The 1Zpresso K-Max in particular and the K-series blenders in general are well known for their external grind adjustment mechanism. The mill size adjustment ring is designed on top of the body, with numbers from 1 to 9 extremely easy to remember. Currently, other blenders on the market mainly use the grinding mechanism on the down side (Timemore, C40, …) and the upper grinding adjustment (Kinu M47, 1Zpresso JX-Pro, etc.) …). K-series sets itself apart from the rest, aiming for speed and convenience. There are a total of 90 clicks in the sizing section, meaning each click shifts the blade by 22 microns. You can completely control over the grind size from fine to coarse. 1Zpresso K-Max is known for its multi-purpose grinding ability, providing good grind quality, high uniformity and consistency, suitable for all preparation methods.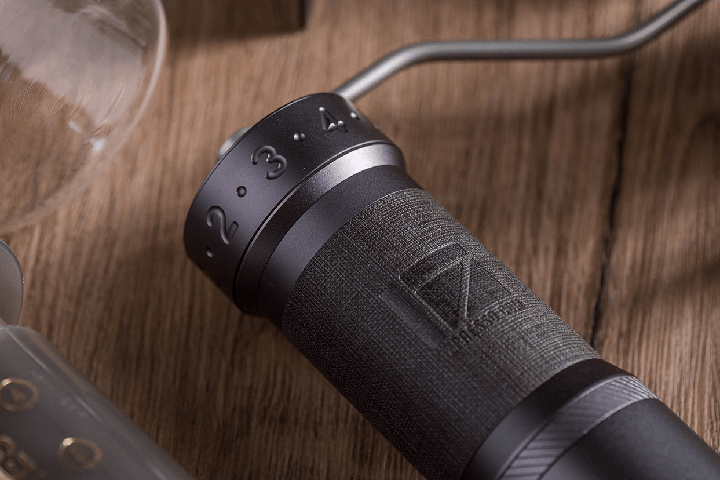 48mm "K-burr" Stainless Steel
1Zpresso K-Max is equipped with a 48mm conical stainless steel inner mill that is fixed between the bezel and a dual bearing to ensure that no parts will wobble or come loose during long-term use. The mill is manufactured thoroughly, requiring sophisticated processing techniques to provide the best grinding experience and durability over time. The 1Zpresso K-Max's 48mm blender delivers faster and more consistent blending.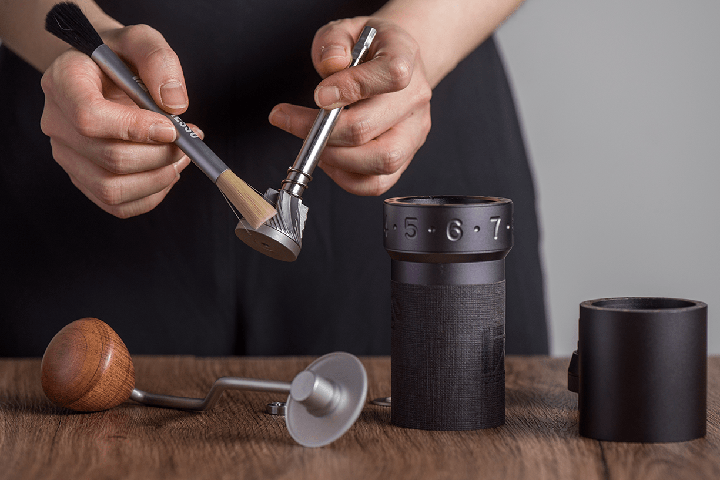 Solid, luxurious and high-class design of 1Zpresso K-Max
The outside of the machine is made of aluminum alloy, very thick and high gloss. Heavy-duty parts such as the handle and the inner frame are all made of stainless steel. In addition to the metal parts, there are details such as a walnut knob and a silicone cover with the 1Zpresso logo printed on it to help prevent slipping during the grinding process. The magnetic coffee holder is still retained, although K-Max has removed the handy bottom indentation function of K-plus instead of a closed drawer. The sealed compartment of the 1Zpresso K-Max is also improved with a bottom covered with a fabric cover to prevent slippery. The 1Zpresso K-Max's magnetic closed drawer is suitable for those who do not use machine coffee a lot, do not really need the bottom indentation function of K-Plus.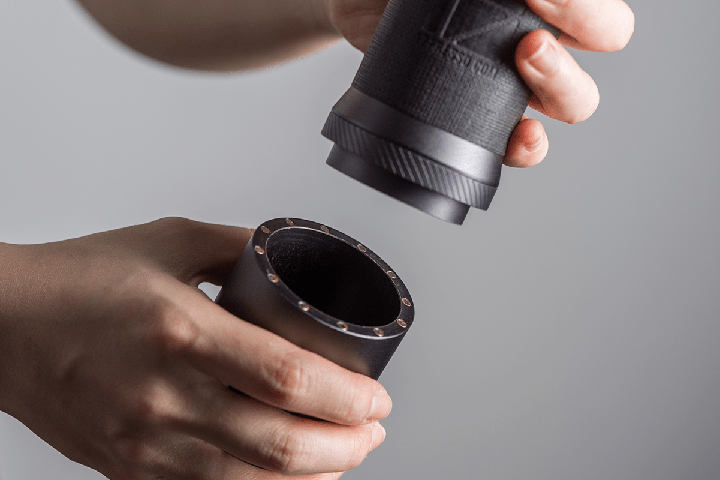 Reviews